March 22, 2020
To All Our Great Customers:
As the Coronavirus (COVID-19) outbreak develops, we look to state, federal and global authorities to explain the risks and necessary preventative measures for business and individuals. Since this maybe the busiest back yard swimming pool season we have seen in years, we are doing our best to meet the needs of our customers and limit exposure for both customer and employees.
To comply with health recommendations, we are asking our customers to not come out and speak with us as they normally may have done in the past. Please however feel free to contact me directly at 615-974-6513 cell (text is always best), 615-414-4854 office or by email at [email protected]
Certified Pools LLC falls under the "Essential Critical Infrastructure Workers During COVID-19 Response"(Under Categories: Water & Waste Water, Public Works and Chemical) this means we need to maintain our health to be out their servicing you; our customers to our best ability.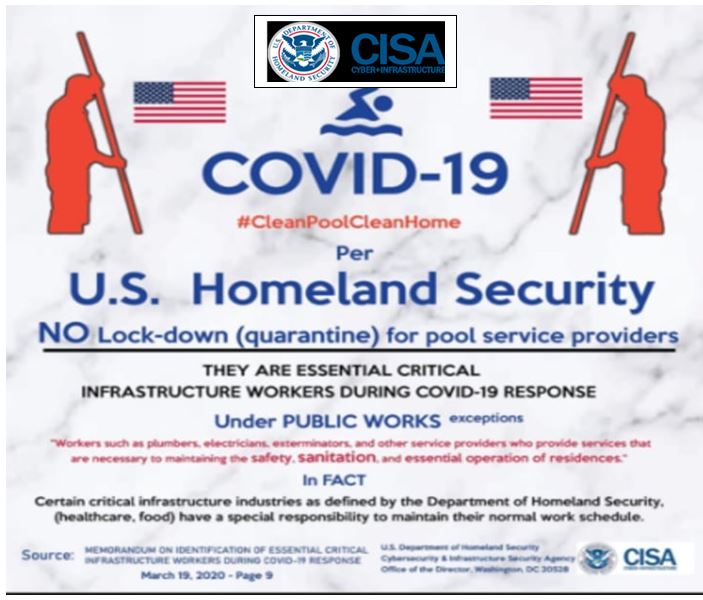 This year we did a much larger than normal purchase of chemicals from the proven stock of last year (in the industry we call this and early buy)supply because we did not know what to expect from new chemical lines coming from China or how diplomatic situations would be. Currently we feel very confident in our stock. There could however be slow downs in products such as parts for equipment and thus we have been going at a speedy pace to get to work now while stockpiles are still plentiful.
We will be asking customers that have signed up for our opening to be ready at a moment's notice this year to be opened. Some of the sheets we have been getting in, have people thinking business as usual and having us open in May. This year is anything but business as usual and I want to make sure your all opened up and chemicals running fine before things get bad enough that we have delays(by higher authorities)in pool openings and so my staff can work as three separate units on service and cleanings. By May I want our business to be down to primarily SERVICE/CLEANINGS. Opening pools and large upgrades on pool equipment means we have to work together and sometime in close quarters (again health becomes my chief concern for all during this time). Not to worry things like small upgrades and breakdowns can be handled by one person and those will go on as they come up.
With the robust economy we are doing everything in our power to keep both you our customers safe and our company working to produce that outcome. If you have nay concerns or questions, please feel free to reach out to me about the daily business or Sam about billing issues.
Sincerely,
Kenneth T. Witton ( Certified Pools LLC- Nashville)